Source to Sleepy Haslemere
The south branch of the River Wey rises from beneath the picturesque Black Down hills just over the Surrey border in West Sussex. A small spring (GR: SU914296) emerges in a dense copse at the foot of the hills near the pretty Cotchet Farm buildings.
There tends to be a romantic notion that the source of a river should be in a magical location, and certainly in comparison to the very uninspiring source of the Wey's sister North Branch in Alton, this location does have a magical feel to it. However it is extremely unfitting that the spring has been confined to a metal pipe and unceremoniously encased in concrete. Not a very proud celebration for a river of such historic importance. The spring is very difficult to find too and is not signposted. Often confused with an outlet of water flowing into a concrete horse trough in the leafy lane that runs up beside Cotchet Farm, the real spring is well hidden within the edge of dense woodland fifty yards away, with no formal footpath on which to approach it. I had to seek the help of a local resident who had had this location confirmed by National Trust officials.
Black Down, peaking (GR: SU919296) at 920 feet (280 metres), is the highest point in West Sussex and consists of a 500 acre common managed by the National Trust who have pioneered a successful heathland restoration project here. Part of the greensand ridge of the North Weald Black Down is an extremely beautiful area to visit, and one much appreciated by Lord Tennyson (1809 – 1892) Poet Laureate and dramatist who lived close by. Walking from his country retreat, Aldworth House (GR: SU926307) on the eastern slopes of the hill, Tennyson used to make regular visits to the mysteriously named Temple of the Winds (GR: SU920293) that affords stunning views across the countryside of three counties. Tennyson spent the last years of his life at Aldworth House. MORE ABOUT ALDWORTH HERE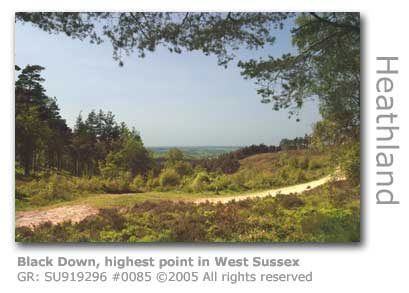 The Great Storm of October 15th 1987 hit Black Down particularly hard destroying great swathes of trees and vegetation.
"We lost 12,000 trees," said Tony Grant who was the National Trust warden at the time. "A lot was plantation, particularly the big trees on the hillside. it looked as if someone had pulled them out and thrown them down the hill. To get everything cleared took about three years, and the day we got rid of the last lorry load of timber, in January 1990, was the day before another big storm struck." Surrey Advertiser 12th October 2007
Blackdown House (SEE BELOW) built in 1607 was used by Oliver Cromwell as his headquarters during the English Civil War. The Black Down plateau was once an extensive heath created by grazing and managed as common pasture with bracken cut for bedding, and fuel collected from the woodland. The woodland coppices here produced charcoal to supply the ironworks operating lower down the Wey Valley. A car park (GR: SU 923307) along Tennyson's Lane provides a good access point to Black Down.
From Black Down the youthful river heads north as an enthusiastic brook tumbling down the Valewood Park Valley, and as it gradually gathers in momentum and size the Wey is joined by other rivulets emerging from springs on both sides. Having negotiated a series of man-made ponds, the river bears west to skirt the southern edge of Haslemere in Surrey, by Camelside and Shottermill.
Blackdown House
Not far from the source of the river is Blackdown Park with a 17th century mansion set in 136 acres of rolling English countryside.
Blackdown House (GR: SU916287) located off Fernden Lane on the southern slopes of Black Down Hill, was founded in 1607 and has many historic connections including one during the English Civil War when Oliver Cromwell used it in 1648 as his headquarters during the siege of Arundel 20 miles (32 km) away to the south. Regular visitors to the house over the centuries included Edward VII, Cecil Rhodes, George Bernard Shaw and Lord Tennyson. Tennyson was to build his own house Aldworth a mile away.

The park and house, which for sheer presence challenges other great estates in the area including Cowdray, Petworth, Arundel and Goodwood, was on the market for £9m (July 2008) providing a perfect retreat for the polo-playing jet set. Hills rise sharply to either side of the house affording an uninterrupted view of Devil's Dyke 55 miles (89 km) away to the north of Brighton and according to estate agentese provides 'a croquet lawn with a view unrivalled in England'.

A previous owner Charles Frazer, former chairman of Cowdray Park Polo Club, extolls the secluded location of the house with his quip: "I'd been looking for a house around here for two years, up every drive and flying over in a helicopter, and I never saw it once."
Blackdown House, today Grade II* listed, retains four central gables dating from 1640 with additional gabled wings added in the 1840s. The house was originally built by the Yaldwin family who were prominent Roundheads and were to serve in the Court of Cromwell. Two 19th century owners were to later dramatically expand the house.
One Captain James Henry, who in buying the house in 1840 ended a 200-year Yaldwin occupancy, instructed the architect Anthony Salvin (1799 – 1881) to draw up alterations which included the large drawing room and main dining room. Salvin designed many major houses in the country and was responsible for the repair and restoration of a good many castles including Newark, Caernarvon, The Tower of London and Windsor. The ambitious plans prepared for the next Victorian owner Sir Frederick Philipson-Stowe in 1891 outline the warren of small rooms he created, which in adding a west wing almost doubled the size of the house. The wing catered for everything from a bottle room, still room, knife room and china closet to lamp room, brushing room and game and pastry larders. The main kitchen occupies a whole suite topped by a Victorian pyramid roof with glass lantern. Philipson-Stowe was also responsible for the spectacular rhododendron, azalea and camellia gardens that remain to this day.

Pyramids and spheres are a recurring theme for motifs in both woodwork and the plaster ceilings through much of the house. Original oak panelling covers reception rooms and bedrooms, and a billiard room has a rare Petworth marble fireplace carved with hunting scenes as its focal point. The billiard room was originally built as a ballroom in 1820. The library has an open marble fireplace with carved oak mantel and an elaborate Jacobean plastered ceiling. The house also boasts two fine oak staircases built in square wells with turned banisters and carvings.
The house, which is built of light sandstone with fine stone mullioned windows, provides over 22,000 sq ft (2,043 sqm) of sublime living with eight reception rooms including two dining rooms, nine bedrooms, five bathrooms, two dressing rooms, a self-contained two-bedroomed staff wing plus a large wine cellar, swimming pool, tennis court and stables. The formal gardens have a spring-fed fountain. The property is not open to the public.
Blackdown House Estate until 1941, when it was divided into various individual properties encompassing several farms and separate houses, was a considerable estate of 1,591 acres.
A house in the Blackdown Estate was damaged by an airliner that crashed in the grounds in 1967 (SEE BELOW).
Sources:
timesonline.co.uk; knightfrank.co.uk 4th July 2008
The media heiress Lucy Pearson sold Blackdown Park in April 2009. It had been on the market with Strutt & Parker for ten months at an asking price of £9m, although it reportedly fetched £7.5m. Peason is the half-sister of Lord Cowdray and moved into the house in 1996. During her residence Pearson had added a new tennis court, swimming pool and billiard room.
"It was like something out of Great Expectations, as the family who lived there before retreated year by year into smaller sections of the house, leaving the rest to deteriorate," says her estranged husband, former cavalry officer Charles Fraser. themovechannel.com 28th April 2009
The Pearson family retain a £570m stake (2008) in the Pearson Group, publisher of the Financial Times.
During the summer months the Poet Laureate Alfred Lord Tennyson (1809 – 1892) would escape from his home in the Isle of Wight, when the island was besieged by day trippers, to the calm and beauty of Aldworth House at Black Down near Haslemere. Here he would entertain many of his literary friends including George Eliot and Henry James.
Aldworth was built in the French-Gothic style in 1869 by Sir John Knowles on the site of an old inn and today is protected by a Grade One listing. The distinctive sandstone-built house with its steep mansard roofs, tall spiky dormer windows and huge chimney stacks, featured what was then the modern luxury of piped hot water and of which it is said Tennyson so enjoyed taking up to three baths a day.
The poet died at the house in 1892, reportedly with a book of Shakespeare in his hand. His son was later to sell the house to an Indian Maharajah in 1921. Aldworth was requisitioned during the Second World War by the Admiralty later being converted into a convalescence home. Eventually returning into private ownership the property was most recently on the market in September 2008 for £10m.
In Tennyson's day the estate covered 60 acres and afforded him breathtaking views across the Sussex Weald and Downs to the English Channel 40 miles (64km) away. He was greatly inspired by his surroundings and in his poem Prologue, To General Hamley, wrote:
"You came, and looked and loved the view, Long-known and loved by me, Green Sussex fading into blue, With one gray glimpse of sea."
These words are inscribed beneath a seated bronze statue of Tennyson that graces the upper terrace of the gardens.
The estate, which today covers 12 acres and has extensive gardens, a covered swimming pool, a helicopter hanger with a retractable helipad, also has a Grade Two Listed four-bedroomed cottage. As you would expect of such a distinguished property Aldworth has seven bedrooms, a library and dining and drawing rooms with lofty 12ft (3.7m) ceilings, together with a 40ft (12.2m) billiard room. Tennyson's bedroom on the first floor features a void above the ceiling to ensure that he never heard footsteps from the floor above. The house today features an abundance of modern gadgets including 'a centralised vacuum system'.
"As you approach the house, two miles from Haslemere, Surrey, stone gatepiers and scrolly iron gates provide further privacy. The drive sweeps on past Tennyson's handsome coach-house to deposit you in front of a triple-arched loggia richly carved with foliage and mythical creatures.

"With all its technical wizardry, Aldworth begs for a new owner who will go wildly retro, filling the house with strongly patterned carpets, rugs and wallpapers, adding highlights of gold leaf to the cornices and introducing large Victorian narrative paintings. Many of the rooms have finely carved stone fireplaces with plain armorial shields that cry out for the addition of colourful heraldry - whether your own, Tennyson's or the Knights of the Round Table. Log fires need to burn in the grates and grand brass gasoliers to hang from the ceilings.

"Spring will be a blaze of colour from azaleas and on a sunny day the unrivalled panorama of blue sky is so intense that distant woods turn blue in the haze, merging with the glimpse of sparkling sea beyond." timesonline.co.uk 14th November 2008
In 1967 a Caravelle Airliner owned by the Spanish Iberia Airlines crash-landed at Black Down Hill killing all 37 people onboard. The aircraft, which was bound for Heathrow Airport, appears to have been flying at a considerably lower altitude along the correct flight path due to instrument error. An air navigation beacon was installed nearby at Northchapel not long after the tragedy.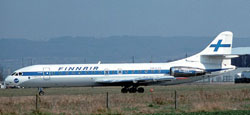 Example of Caravelle Airliner
Photo by Eduard Marmet
released under GNU Free Documentation License
The plane which smashed through trees in the grounds of the Blackdown Estate continued for several hundred yards across a meadow killing 65 sheep and fatally injuring 23 more before disintegrating close to the house. A garage was destroyed and the roof of Upper Blackdown House in the estate was badly damaged. Several fires started by ignited aviation fuel broke out in the densely wooded hillside which were tackled by the concerted efforts of firemen from Haslemere, Grayshott, Liphook and Guildford. Debris from the aircraft reached as far as Fernden Lane in the woodland.
Among the passengers, who were returning from holiday in Spain, were the film and television actress June Thorburn, who was five months pregnant; the industrialist and Coventry City Football Club vice-president John Clarkson and Donald Cambell of the Campbell Aircraft Company based in Weybridge.
The following is an extract from the police report at the time:
"About 10.02 p.m. on Saturday, 4th November, 1967, a Caravelle Airliner No. EC-BDD, owned by Iberia Airlines of Spain, crashed at Black Down Hill, Sussex (map reference 919289). This Hill at its highest point is 902 ft. above sea level. The aircraft was on a scheduled flight from Malaga, Spain, to Heathrow Airport, and was piloted by Captain Harnando Maura [Pieres], 37 years, an experienced Pilot. It left Malaga at 7.30 p.m. G.M.T. and the estimated time of arrival at Heathrow Airport was 10.10 p.m. G.M.T. The weather at the time was slightly misty with intermittent drizzle but there was reasonable visibility.

"Debris from the aircraft was scattered over the whole of the 355 yards of its passage. There were no survivors from a total complement of 30 passengers and 7 crew"
Nearby Fernhurst village became an operational centre with the village hall used as a temporary mortuary and the youth club opened with food and drink provided by the local WVRS for the emergency crews.
Source:
fernhurstsociety.org
KEEP TRAVELLING ALONG THE RIVER TO LINDFORD
© Wey River 2005 / 2012