Traveling Back in Time
Mrs Jenny Roberts runs the Godalming Packetboat Company which provides members of the public with a unique opportunity of enjoying a two hour trip on the narrowboat Iona along a picturesque stretch of the Wey. The Iona is the only working horse-drawn vessel operating anywhere along the river.
The Iona began her working life in 1935 plying her trade along the Grand Union Canal, and variously carried cargoes of coal, lime juice, chocolate crumb and steel billets. She was converted in 1968 to operate as a horse-drawn trip boat, and has since 1985 been a regular sight along the Godalming Navigation.
Towed seemingly effortlessly by a single horse, the Iona still retains her traditional narrowboat decor and a bargee's cooking range in the rear cabin.
Currently the equine team are Rosie, who is a 14 1 hands piebald mare born in 1986, and her working partner who is a comparative youngster at seven years her junior - a blue roan gelding called Ben who stands at 15 1 hands.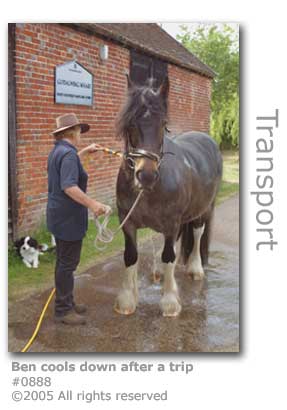 In an earlier life t he Iona starred in The Bargee, a canal based British 1958 comedy with the likes of Harry H Corbett, Ronnie Barker, Eric Sykes, Richard Briers and Derek Nimmo. She also appeared in an episode of Coronation Street.
The Iona also undertook a nostalgic trip along the full 20 miles of waterway from Godalming to Weybridge in <> to celebrate the National Trust's first quarter of a century operating the Wey Navigations.
The Iona runs public trips from Easter until the end of September and is also available for private charter. As well as traversing this beautiful stretch of the Godalming Navigation away from the hussle and bustle of modern life you will experience what its like to pass through a lock.
More information from www.horseboat.org.uk
DAPDUNE WHARF - THE CENTRE OF WEY BARGE BUILDING
LARRY HALLIDAY - LENGTHSMAN ON THE WEY
© Wey River 2005 - 2012