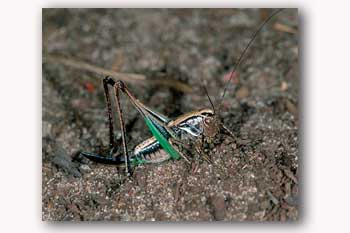 The Bog Bush Cricket (Metrioptera brachyptera)
is wingless, so this scarce species
most likely perished in the fire.
©2006 #0306 Jeremy Early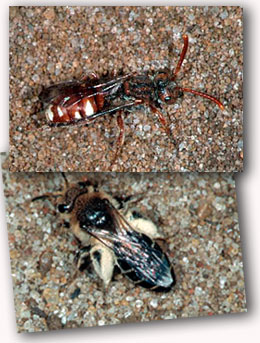 The Cuckoo Bee (Nomada baccata) top, preys on the Mining Bee (Andrena argentata) bottom. This species of bee is most easily observed in large numbers on open sand in July and August. Both are rare species.
©2006 #0406 / 0506 Jeremy Early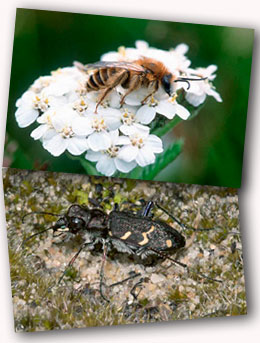 A male Mining Bee (Dasypoda hirtipes) top and ferocious predator the Heath Tiger Beetle (Cicindela sylvatica) bottom are both
protected species.
©2006 #0706 / 0806 Jeremy Early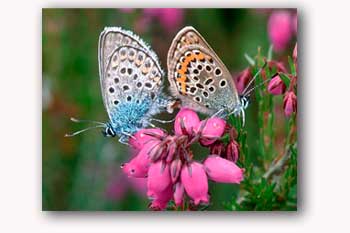 Two beautiful Silver-studded Blues (Plebeius argus) in warm embrace. A Biodiversity Action Plan (1) species, the Blue's caterpillars feed on heather, preferring young plants.
©2006 #0606 Jeremy Early
(1) The Biodiversity Action Plan was established in 1992 to ensure diverse wildlife of the UK is conserved. This allows for conservation action to help protect specific species.