Wey Valley Farrier
Joins England Team
Elstead farrier Adrian Devereux has secured a position in the five-strong horse-shoeing team that will represent England in international championships. Devereux managed to beat off strong competition in the 2006 trials and joins a world champion and two national champions.
The next international competition is being held in Italy in November 2006 when the English team will face the best farriers from 10 European countries. Devereux was in the team when they beat all-comers in the international championships at Stoneleigh in Warwickshire.
"It was the first time I've competed on the world stage and it was really great fun," said Devereux. "We were working against the clock and trying to produce perfection. You can't afford to make any mistakes with metal because you can't reverse any mistakes you've made."
Devereux has worked as a farrier for 25 years and has run his own forge in Elstead for the past decade where he shoes up to 25 horses a week often with shoes he has forged himself.
Farriery, or the shoeing of horses and other equine animals, is believed to have its origins in Roman times
There are half a million horses in the UK and a farrier in Britain has about 270 horses on his or her books. The average re-shoeing period is ten weeks, although horses involved in hunting or a lot of travel along metalled roads may need shoeing every four to six weeks. Modern horseshoes are mostly made of steel and are nailed onto the hoof. Aluminium shoes which are lighter are often preferred if the horse is involved in sporting events such as polo, eventing and show jumping.
The farrier's work as well as shoeing involves checking the horse's leg, foot and hoof, cutting away excess hoof growth and ensuring that the horse is balanced correctly. There is a great deal of skill in assessing the most appropriate type of shoe for the horses's size, foot condition, type of activity and working conditions, and most farriers work closely with veterinary surgeons and equine hospitals to provide corrective shoeing and surgical farrier.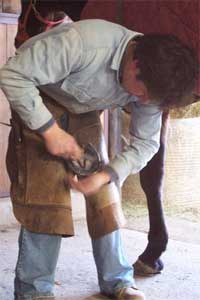 A farrier shoeing a horse
Photo by Alessandro Brollo. Permissions under GNU FDL
Farriers can work either from their own static forge or use portable forges they can transport to where the horses are located. The portable forge which provides for the heat in hot-shoeing along with anvils and vices are often carried in the back of vans. These modern portable forges are usually gas fired unlike the portable forges used before the 1980s which were coal fired and required considerable time in firing up and cooling down for transportation. Some shoeing is done cold and there is also the need for attaching temporary sporting aluminium shoes and polymer-based shoes where adhesive rather than nails are used.
An Act of Parliament (Farriers (Registration) Act 1975) prohibits the shoeing of horses in the UK by unqualified persons and all farriers have to be registered with the Farriers Registration Council in order to practice their trade. To qualify for registration a farrier has to complete a four year and two month apprenticeship with an approved Training Farrier and pass the Diploma of the Worshipful Company of Farriers examination. The law is actively enforced as reports of legal prosecutions against unqualified farriers published on the Council's web site testify.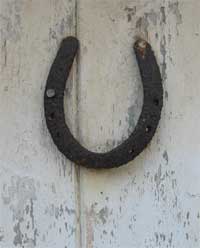 Photography by Man Vyi.
Image released into public domain
The practice of hanging horsehoes outside domestic dwellings (usually with points upwards in order to 'catch good luck') is believed to have originated from Celtic custom when it was believed that manevolent faeries were repelled by iron, and that as horseshoes were the most readily available source of the metal discarded shoes were gathered for that purpose.
Sources:
Crafts in the English Countryside Report 2005; Surrey Advertiser 29th September 2006; Farriers Registartion Council; Wikipedia
How Bigz Ya Whippy?
The first documented account of ice cream in England was in 1672 when King Charles II was served the delicacy at a banquet and ever since then the English have taken the treat to their hearts.
The modern equivalent of the ice cream tricycle, which Walls introduced in 1923, is the ice cream van complete with state-of-the-art ice cream machines and nerve-jangling chime. The Observer Magazine featured (July 2006) one such Wey Valley operator, and here we give a taste of life on the road abridged from an interview by John Hind.
Wayne Vineer from Guildford along the Wey River turned his back on careers as a car salesman and coach driver to endure the vagaries of the English climate and face the wit of the Great British Public.
"My phone number is on the van so I frequently get texts asking, 'How bigz ya Whippy?' Women will walk up and say, 'Have you got a large one for me?' and then, 'Have you got nice nuts?' There's a lot of sauciness out there."

"If you look them in the eye and ask, 'Small, medium or large?', 90 per cent of adults will go for the medium."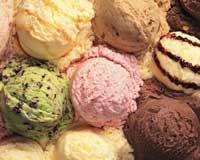 Wayne works hardest during the 26 sunniest weeks of the year without a break which decimates his social life, especially as he often works for over 12 hours at a stretch. His longest shift so far has been 15. He is well travelled and yearns for a Las Vegas lifestyle - sleeping well into the afternoon and then going to shows and casinos and clubs from 8pm until 6am. However he prefers his new life on the road to having to put up with the aggro of selling cars or losing punters as a coach driver.
"When I sold cars it did my head in. People would phone up at 10pm and say, 'There's a squeaky noise.' You can't bring a Whippy back two months after you've eaten it."

"I was a coach driver once. Oh Jesus. On Mystery Tours passengers constantly ask the driver where they're going. And there's always two still missing in Bangor when you leave half an hour late to come home."
Wayne takes pride in the service he provides and secretly revels in uncovering the innermost nature of his customers.
"Some ice-cream folk go to pet shops and buy fish-tank air tubes to attach to their machines, so your ice cream's practically all air. Did you see Brown buying Whippies for him and Blair on the news a while back? I'd say definitely they were tube jobs."

"Dads are tight. They'll say to their children, 'We'll have one later, when we come back,' but never do. And with young couples it's almost always the girlfriend who pays."

"I could go to Sunningdale or Virginia Water and not sell one Whippy all day. Rich people, especially those with expensive and fast cars, won't buy ice cream. I've been to events where snobs will say, 'Oh, we don't want an ice-cream van here, no - it lowers the tone.' They sit in their Mercs turning their noses up at my beautiful van, which cost £55,000."
And he's stoic in his views on the downsides of his business.
"It's bloody hot in here. So you get the condition commonly called 'chef's arse', because all the sweat runs off your back and between your cheeks. The engine gets through £20 of diesel a day."
"You've got to stick to your chime. Mine's 'Greensleeves'. If it's meant to be heard three streets away, imagine what the volume's like inside the van."
"It's strictly no passengers allowed. Even if they say, 'You can shag me for a lift.' It's the insurance."
Source:
The Observer Magazine 30th July 2006
THE LEGENDS AND STORIES OF THE VALLEY
© Wey River 2005 - 2007 : All rights reserved