The Wey, in common with rivers all across Britain, was for many hundreds
of years fringed with expansive withy beds to supply villagers with materials for making baskets, eel-traps, artists' charcoal, revetment for river edging, fencing and thatching spars.
Willow is a fast growing tree and when coppiced produces long straight branches that are extremely strong and supple, providing an ideal material for weaving.
The withy beds provide a good habitat for wildlife, little shade on the ground below for other plant life, and a good summer screen along the water's edge.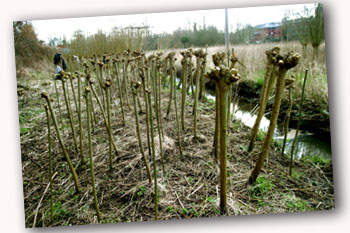 Coppiced withy bed
#8998/07 ©2007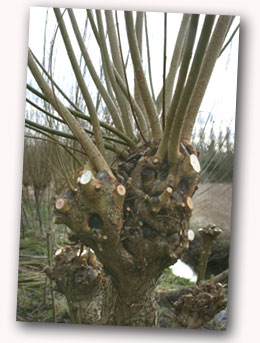 #8961/07 ©2007
Today the beds of willow pollards are relatively few and far between, and those that remain are kept productive by the efforts of small groups of commercial users and enthusiasts.
Freshly harvested willow stems are planted and regrowth sees new branches forming at the top of the young tree.
Once one summer's growth has occurred it is harvested by cutting the stems from their sprouting point. The first year of new growth will produce four or five new stems, and as the crop is harvested year on year so the pollard starts to generate more and more branches. A five year-old pollard can produce in excess of 40 stems.
The distinctive bulge of the pollard is kept to approximately to chest height by closely cutting new growth and so enabling easy harvesting.